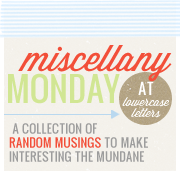 1. Tobacco is... good for something?


Last weekend we went to Ellijay

(small mountain town where I lived for a couple years in high school).

My BFF Jess went to Belize for a month for school so it was nice to have a get-together before she left. We had a good ol' time down on the farm with Jess's family and a bunch of friends. :)
The kids had a blast swinging and playing "Corn Hole," but Nolan experienced his first bee sting. He screamed like I have never heard him scream before and it was awful. My friend Jess said tobacco is what her grandpa used to put on her stings and we tried it, and guess what? ....worked like a charm.
Nolan almost immediately stopped crying and said it felt much better. Love those old country remedies :)
I was pretty much MIA this week from the internets... whenever we have an event going on at Sailor Studio, we pretty much work 12 hour days for the whole week (yes, my mom, Britni, and I all have serious procrastination and attention issues...)
We pulled it together, worked from 6 am to 10 pm on Saturday and the Art Stroll at the studio and the Snellville Market were both a lot of fun! We sold all our extra inventory, so we are pretty much at square one with getting ready for the Yellow Daisy Festival... but I'm not complaining! :)
We grabbed a pic of this sweet woman at the market- she bought these earrings that matched her shirt perfectly!
My little brother even got in on the action and set up a table for his origami. He made his first sales! :)
(haha, what a goober)
3. Rockin the Bangs
BTW, did you notice my hair? I have not always been the biggest fan of bangs... but I was getting antsy about wanting to do something different with my hair.
So I cut some bangage... and I'm lovin it.
Do you tweet? I don't tweet that often, but I do follow some people that crack me up, and reading other people's tweets are a fun past-time when you are bored (or waiting in a forever long line at the grocery store).
My twitter name is @alilstory.
Feel free to leave yours in the comments... (if you are into that sorta thing :)
Over the past few weeks, Goose and I have eaten chips and cheese dip or cereal for dinner more times than I can count... sad I know.
After watching Julie and Julia (wasn't nearly as bad as I thought it would be)... I am inspired to try to cook at least one decent meal a week- and I am going to pick something I have never tried before.
Tonight is my first attempt at a delicious family meal... I have the ingredients for Eggplant Parmesan, a Caesar Salad and some kind of appetizer using artichokes... hopefully, I can take some pictures and let y'all know how it goes :)
Happy Monday!