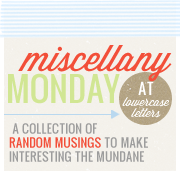 Okay, so a little late for the MM post, but I was having a bit of a lazy Monday... probably because I was so EXHAUSTED from this past week with its non-stop going ons..
1. All my boys are snotty and gross... which is just the saddest thing.
Although, Nolan and Reese's sore throats have kept the house substantially quieter over the past few days...
2. One of my great friends Kellie had her beautiful baby girl, Abigail, on Saturday! Then, my family and I threw my aunt Rita a shower yesterday... it was fun and we are super excited about meeting little Sadie....
BTW, Rita is just the cutest pregnant lady in the world:
3. I think I am addicted to hummus. avacodos, and sun chips. I eat them almost everyday...
I don't think I am doing too well on the "balanced diet" front...
3. The boys got haircuts this week. I did Nolan's... it didn't turn out so well, kinda like a Justin Beiber 'do gone wrong...
He is very upset and wants his long hair back.
I miss his sweet curls :(
4. After the shower on Sunday, we walked over to Sailor Studio to have a little modeling session with some friends and cousins =) I wanted to get some new pics of our jewelry for the website, but it didn't work out too well cause my aunt's super nice camera's battery died and I had to use my piece of crapola camera...
oh, well maybe we can do some more next week...
...At least I got a new profile pic out of it... haha.