Welcome to this version of me getting tired of doing schoolwork so I am going to procrastinate on that and write a really random blog post Miscellany Monday!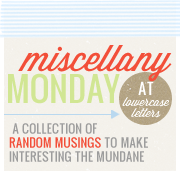 I uploaded the pics from my camera and realized...
wow. I really need a vacation.
I have entirely too many things happening all at once and some times I think I am going to just flip out and run far, far away...
But then I would miss out on the fun... because everything that is going on are good things.
well... most of them anyway...
1.
We had to go on a tour of the city of Stone Mountain as part of the art program we are in- We are supposed to know about the area so that when people come into the gallery, we can let them know about what else is going on around town.
I grew up in Stone Mountain but I did not know half the stuff we learned on the tour~
As we were at the park looking at one of the nature trails, we stopped and were listening to our guide talk about the song-bird habitat... it is totally peaceful and quiet-
Then, I suddenly feel something weird on my leg.
...had crawled all the way up the INSIDE of my jeans, up to my thigh and started trying to fly around... I almost fainted and threw up at the same time. Of course, I grab my jeans and shake the spawn of satan
grasshopper out of my pants.
Thankfully, it came out of the bottom before I had a total meltdown.
Ugh- insects... not. a. fan.
____________________________________

2.
We had the Grand Opening of our studio on Friday. We share a gallery space with two other artists and then we each have our own workshops. It was fabulous and overwhelming. They had the ribbon cutting ceremony for the arts program and the new Sreetscape sculpture right outside the building and as soon as it was over our gallery was just flooded with people- craziness- but so great! I'll upload some pics as soon as I get them organized.

________________________________________
3.

Goose's dad just turned 70!! He is the best dad-n-law a girl could ask for and an awesome grandpa to the boys- they just adore him!
We went to the Braves game to celebrate! It was the boys first Braves game and they loved it...
especially the part where they got to eat peanuts, carmel corn, and 2 bags of cotton candy... they were just a little wound up. :)
__________________________________

4.

We did a 5K called the Red Barn Ramble- It was a run on a farm- so much fun =)
I got first place in my age group again! and the trophies were these super cute, hand-made birdhouses...
I am definitely doing that one again next year~
____________________________________

5.

Did you know that my kids are hilarious... and obnoxious... and as cute as pie... And that they just love taking silly pictures with their mama =)
Okay, enough procrastinating-

Hope all y'all are having a fabulous Monday =)