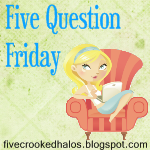 ~Head over to
Mama M.'s
to join in Five Question Friday
or
here
to join in Friday Follow~





1. Do you sing out loud in the car when you're driving?
oooooooh girl, it's like American Idol up in there...
(only the first few episodes though, you know, when everyone sounds like a dying cat).
2. What would you never be caught doing?
blogging...
never.
3. Will you go #2 in a public restroom?
Ewwwwwwwwwwwwwwwww. gross. it would have to be an E.MER.GEN.CY.
But,

obviously

there are plenty of women who don't have a problem with it

(speaking to you old lady at Mcdonald's last week)
Can a girl get a courtesy flush?
thanks.
4. Have you ever broken a bone?
Only One... and it was totally worth it.
My family and I play on a flag football league every year... We were playing the #1 team. I caught the ball and took off running. Made it right to the goal line...
and I dove.
heard a crack.
and didn't get back up.
yep. broke my collarbone.
BUT, I totally made the touchdown! =)
Exhibit A:
I spent the championship game on the sidelines, which was totally lame.
That's my uncle in the middle, trying to look big...bahahahaha...
5. Do you prefer cooking or baking?
Neither.... Why?... because both involve the stove which apparently I can not use without burning myself... I have FOUR burn marks on my hands right now, all from different incidences...
Last night I burnt the palm of my hand so badly that I called goose and made him get me some burn cream on the way home. I had to finish dinner one-handed.
Needless to say, the meal was not. so. good.
BTW~ for those who read yesterday's post... his laptop turned on this morning!! Woohooo!! Goose did read my blog, and thought it was an April Fool's joke... I think I'll just let him believe that ;)
Hope Everyone Has a Great Weekend!