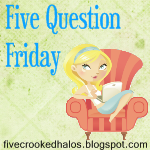 I just haaaaaad to do the 5 Question Friday this week! One of my question suggestions got picked~ Woohooo! Just go
here
to link up and answer your own 5 questions~
Anyway, here goes...

1. Do you sing karaoke? If so, what is your go to song?
(this was totally my question suggestion, hehe, I feel so special =)




Whoooooooaaaawhooooaaa, Sweet Child o' Mine!!! (Guns N Roses) Everyone who knows me, knows that this is my go-to song
(even though we don't karaoke very often)
and everyone is probably sick of me singing it… I don't care, I love it... no matter how ridiculous I look... It is one of my favorite songs of all time =)
(see i have proof... ridiculous)

2. What is your favorite coffee drink?

Starbucks white chocolate peppermint mocha!! But since I can't take out a second mortgage to go to Starbucks every day, I compromise with Coffee-mate Peppermint Mocha creamer, which is totally awesome and they now have it all year long... this might have attributed to my insomnia last week...=)






3. If you could choose your own name, what would it be?


This question makes me smile. When I was little, my dream name was Lindsey Thompson. I actually used to write it on notebooks
(okay, so I was a little weirdo).


I guess I thought that Lindsey Thompson was such a "normal" name compared to my hippie name: Lily Dawn
(lily wasn't a popular name back then)
Plus, my last name
(maiden name)
rhymed with Pig-pen... nuff said.



4. Were you ever bullied?


No, not really.

Although, my older siblings and cousins called me "Fat Lily" for a few years...
(Huge is an understatement for how big I was as a toddler)
I don't really consider it bullying though because I was so oblivious to everything as a kid; I don't remember it bothering me =)
I'm in the front with my little orange Bible... this is actually not my biggest =)

5. How often do you eat fast food?


I just have to say, I heart Chick-fil-a... it is a borderline addiction. and it is not just the food. Everyone there

(I mean at every Chickfila I have ever been to)

is so friendly! The place is clean, the food is fresh, and they have awesome sweet tea

(Oh, and they don't charge me 27 cents for an extra sauce).



But anyway, to answer the actual question... I eat fast food about once a week~

at Chick-fil-a =)



Happy Friday!!